| | |
| --- | --- |
| Desktop Tools and Development Environment | |
To search for, view, open, find, and make changes to MATLAB related directories and files, use the MATLAB Current Directory browser. Most features of the Current Directory browser have equivalent functions that perform similar actions. If you are viewing this document in the Help browser, you can watch the Current Directory Browser video demo for an overview of the major functionality.
In addition to the features described here, the Current Directory browser includes tools to help you manage your M-files--see the Visual Directory in Current Directory Browser and Directory Reports in Current Directory Browser.
To open the Current Directory browser, select Desktop -> Current Directory from the MATLAB desktop, or type filebrowser at the Command Window prompt. The Current Directory browser opens.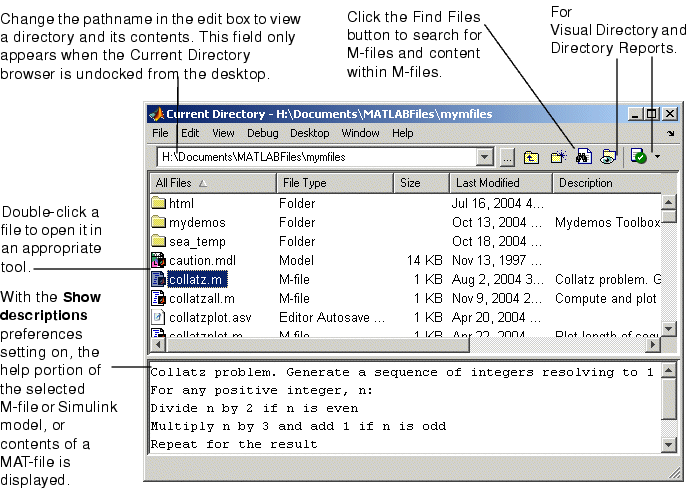 The main tasks you perform with the Current Directory browser are
| | | | | |
| --- | --- | --- | --- | --- |
| | File Management Operations | | Viewing and Making Changes to Directories | |
© 1994-2005 The MathWorks, Inc.