| | |
| --- | --- |
| MATLAB Web Server | |
Additional Troubleshooting for Windows NT

Using the Windows NT Event Viewer

The Windows NT Event Viewer captures data that can be useful for debugging matlabserver operations even if you have not requested matlabserver logging through the command options. To access the Event Viewer, choose
Start ->Programs ->Administrative Tools ->Event Viewer. When the Event Viewer appears, click on Log on the menu bar and choose Application from the pull-down menu.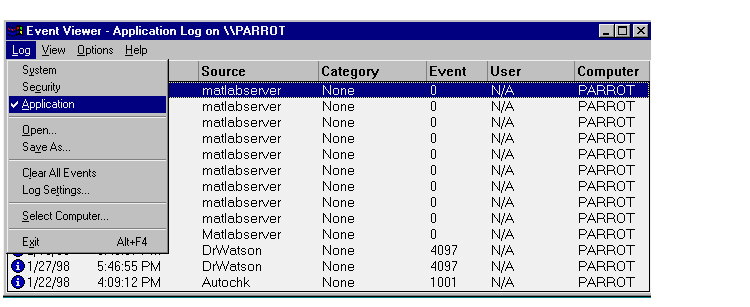 Double-click on a matlabserver entry to receive additional details that may be useful in determining the cause of a matlabserver problem.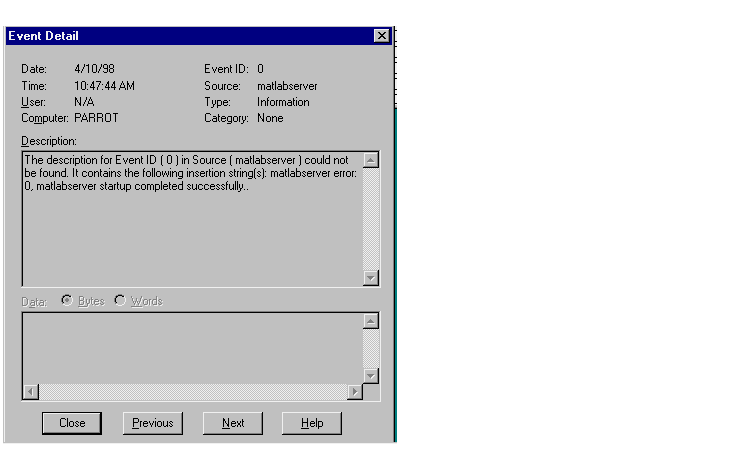 Startup Sequence

If you install a new version of MATLAB and the MATLAB Web Server, you need to start MATLAB before starting Web Server. MATLAB performs some system updates required for successful Web Server operation.
| | | | | |
| --- | --- | --- | --- | --- |
| | General Troubleshooting | | Additional Troubleshooting for Solaris and Linux | |