| | |
| --- | --- |
| Desktop Tools and Development Environment | |
Search Documentation with the Help Browser

Search Pane in the Help Browser

To look for a specific word or phrase in the documentation, use the Search pane in the Help Navigator.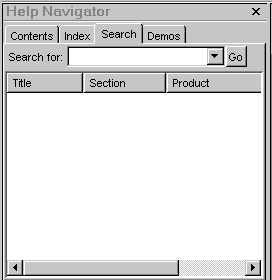 To limit (or extend) the products whose documentation is searched, set the product filter.
Type the word or words you want to find in the Search for field, and click Go (or press Enter or Return). You can use Boolean operators between the words--see Boolean Operators in Search.
The documents containing all of the exact search words are listed, with the documentation Section and the Product name shown in the second third columns, providing context for the results. You might need to make the Help Navigator pane wider to see all columns. The total number of results appears at the bottom left side of the pane.
The selected page appears in the display pane with all occurrences of the search words highlighted using a different color for each search word. Search words remain highlighted until you view another page or until you click the Refresh button in the toolbar.

In the display pane, use the Find tool, accessible from the Find button on the toolbar, to find a specified word in that page.
Change the order of the results by clicking a column heading. For example, click Product to group results by product. Click Title to sort titles alphabetically. A triangular icon indicates the column on which you most recently sorted. After changing the order of results, you need to rerun the search to see results ordered by relevance.
Change the location of columns by dragging a column to a new position. For example, you can drag the Product column so it is second, which makes the Title column third.
For more results, you can search for the words in the Technical Support database on the MathWorks Web site by clicking the link at the bottom of the Search results pane.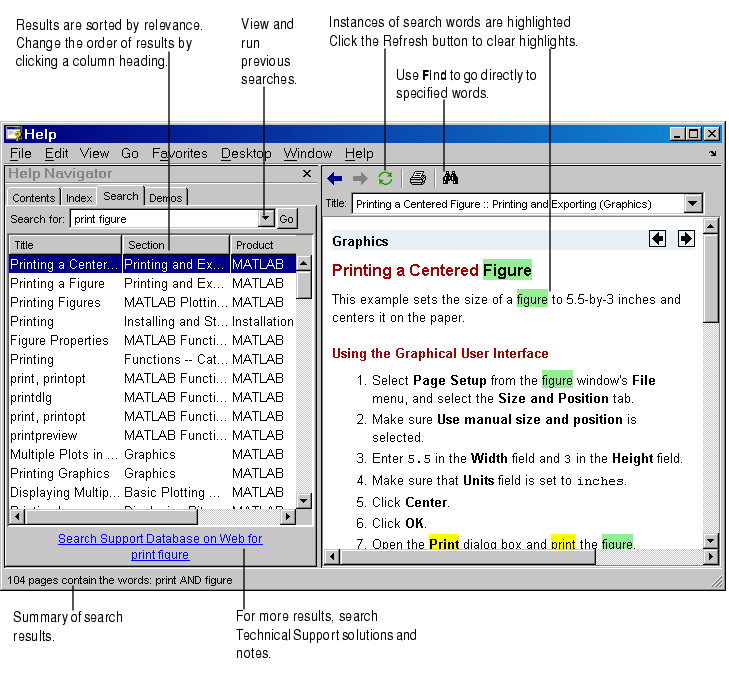 Function Alternative. From the Command Window, use docsearch to open the Help browser to the Search pane and search for the specified term. For example
docsearch('print figure')

finds all pages that contain the words print and figure. For details, see the docsearch reference page.
| | | | | |
| --- | --- | --- | --- | --- |
| | Tips for Using the Index | | Boolean Operators in Search | |
© 1994-2005 The MathWorks, Inc.